TONGZHI PERIOD BOWL?
by Pamela
(Washington,State)
contrasting glaze colors
Found this beautiful bowl at a flea market,as you can see it has beautiful enameled butterflys on the outside of the bowl as well as inside.It has 6 character marks on the bottom of the bowl.It is octagonal in shape and the glaze is a two tone combination of turquoise and orange-red, it measures 8 and one half in.across and about 4 and one half in. high.The bowl is in excellent condition.Any help in identification,period,and dating the bowl would be sincerely appreciated.
Return to Ask a Question or Contribute - archived 2012.
TONGZHI PERIOD BOWL/
by Pamela
(Washington,State)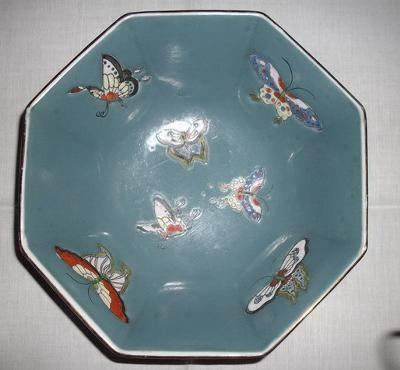 inside of bowl
HERE ARE SOME ADDITIONAL PHOTOS RELATING TO THE BOWL THAT WAS SUBMITTED BY PAMELA.THESE WILL SHOW MORE DETAIL AND BOWL MARKINGS
Click here to read or post comments