Antique Porcelain Gallery
Would you like to view pictures of a few antique porcelain items in the antique porcelain gallery? No imperial ceramics or other expensive porcelain here! Just a few nice examples of export porcelain and other minyao (private kiln) ceramics of the Qing dynasty and early republic period.

Image Gallery of Qing Dynasty and Early Republic Ceramics
(Opens in new window)


Image Gallery of a few pre-Ming museum quality pieces
(Yuan / Song dynasties, and Korean ceramics of the same period)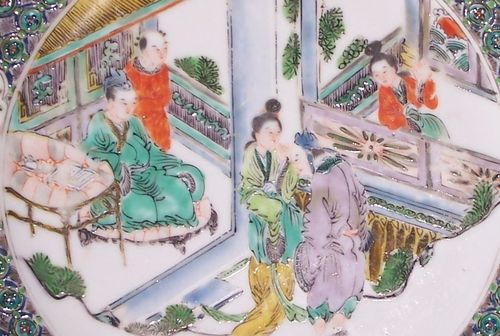 Above: Central image of early 19th century export porcelain plate
More Galleries:
Galleries including more ancient items (7th~14th centuries)
Most white wares shown are from the Yuan to Tang dynasties. The celadon items shown here are mostly from the Ming to Yuan dynasties.
Before the Ming dynasty celadon wares were predominantly made in southern China, that is by kilns south of the Yangtse river. White wares were predominantly made in the north, during that time.

Gallery I    (a selection from the Winti Collection)
Gallery II    (Chinese, English)


Porcelain pillows  - Plenty of porcelain pillows were used some 600 years ago, in China and Korea.
And yes, this is real (!) they were especially popular in the Song dynasty. Cool to sleep on in the summer heat!

......................................................................................