Antique Porcelain Gallery
Would you like to view pictures of a few antique porcelain items in the antique porcelain gallery? No imperial ceramics or other expensive porcelain here! Just a few nice examples of export porcelain and other minyao (private kiln) ceramics of the Qing dynasty and early republic period.

Examples of Qing Dynasty and Early Republic Ceramics (early 19th century)

Image Gallery of Qing Dynasty and More Ancient Ceramics
(Links open in new window)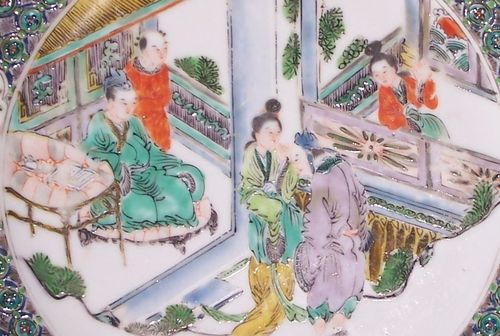 Above: Central image of early 19th century export porcelain plate
Galleries including more ancient items (7th~14th centuries)
Most white wares shown are from the Yuan to Tang dynasties. The celadon items shown here are mostly from the Ming to Yuan dynasties.
Before the Ming dynasty celadon wares were predominantly made in southern China, that is by kilns south of the Yangtse river. White wares were predominantly made in the north, during that time.


(some items may appear in both galleries)

Gallery I    Gallery including some older pieces from the 7th~14th centuries
Gallery II    (Chinese, English) Includes both Qing/Ming and older items.



Porcelain pillows  - In the Song dynasty, some 700+ years ago the use of  porcelain pillows were highly popular.

And yes, this is real (!) these pillows are cool to sleep on in the summer heat, with no air conditioning and electric fans available


Note:
As many others the author was originally thinking they were meant to be funeral ware and decided to try one of the more ergonomic ones, the "ruyi" shaped one of the above two types above. Astonishingly it was very comfortable.


......................................................................................