Commenting is deactivated.

Please post all new topics and queries to the
Discussion Forum
HELP TO DETERMINE AGE OF LANGYAO ? VASE
by Andrew
Hi Peter,

I made a serious purchase just a while ago & bought this vase.
I hope it was worth the money I paid for it.

The vase is about 11.5" tall & has a neatly trimmed foot....looks like the glaze near the bottom edge has been lightly filed to remove any congealed drops that may have gathered after it was fired.
The glaze is of uniform deep red colour with what appears to be a fine light sprinkling, of clear glaze bubbles, that glitter, especially in the sunlight.
The vase has some other age signs as well & the base glaze colour seems to be more, of an off white, which, in the shade looks slightly pale blue / grey.

I read somewhere, that some Republican Period vases were finished off like this, so I am hoping the vase is at least pre- 1950's production.
What do you think Peter? How old could it be & is it a real langyao glaze or just an ox blood, flambe or copper red, don't know the difference between the glazes, the images all seem different on the net & have seen some brown shades labelled as red monochromes!
Confusing to say the least, when your browsing a computer image only.
I would also welcome comments from any other members, who may have similar vases.

regards,Andrew.

Click here to read or post comments
Return to Ask a question or contribute - archived 2011.
FURTHER COMMENTS ON THE LANGYAO VASE
by Andrew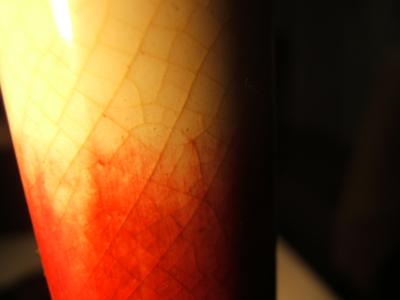 Hi Peter,
thanks for your input , very much appreciated.
The actual colour is hard to photograph, but all the pictures wer taken in sunlight.
The red is more of a darker ruby colour in daylight & appears to be a dark maroon in the shade.
I have added 3 more images taken indoors under artificial lighting,hoping that the straw colour of the neck is clearer than in the earlier pictures.
As you say its hard to estimate when who copied who but I found this quote on a website & would welcome your thoughts on this also....
the following is an extract from the book Chinese Ceramics by He Li, a very famous author of ceramics & a once curator of the Beijing Palace Museum-
"picture 550 bottle, porcelain with ox-blood glaze, Qing Kangxi period, 1662-1722. height 37.1 cm.s; also known as sang de boeuf or langyaohong...bold red glaze has a crackled glassy surface & reveals a straw colour around the mouth where the glaze is thinner, while the thick drops form at the foot.
The drips were either left as they formed or were TRIMMED TO PRODUCE A FLAT EDGE. Majority of such wares bear no reign marks, though some have characters symbolising happiness & longevity or Xuande reign mark."

I've also included a picture, of the base of a supposedly C18th langyao vase owned by V&G which evidently shows, a very roughly, trimmed glaze edge.
your further thoughts, in this most complex arena would be most enlightening & most needed.
regards, Andrew.
Click here to read or post comments