Commenting is deactivated.

Please post all new topics and queries to the
Discussion Forum
xuande wucai bowl ? need help please.
by Prabhu Kafle
(Sydney, Australia)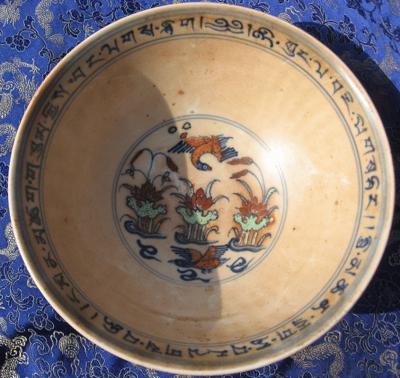 hi i have reasearched many many many times on the net and i can't seem to find more about this bowl. it's alsmost 17.5 cm " width on the top and 7.5" deep bowl.

i have again tried and tried to get more information about this bowl as i want to sell it. by your guidance may be i can contact christies or sotheby's regarding this matter, but before i do i just want to know in an average how much reserve price should i put on this xuande bowl which i recently bought for 850 dollars. ;) well i know that did shock you. but it's all because of hard work and going around garage sales and small auction houses in towns and villages. i have attached few pictures.



well i found that this type of xuande bowl is the first to use underglazed blue and white and then again use enamel for other colors. and also found that these are extremely rare as i haven't seen any of these type come up to any auctions yet. and as you can see the lanca script in the bowl the similar with stem cup was sold in sothebys and christies for a big money.



this bowl has the yellow orange color but there are some plate and dishes and porcelain made in xuande that was decorate in such a color instead of a white one. i nearly tried to clean it with a strong solvent but when i found that some xuande are made of this color as seen in yellow , dirty color i was lucky that i didn't tried to scrubbb it off with strong chemical.



can you please, let me know if this is rare ? and in an average how much reserve price i should put. am pretty sure it's 101% original. cheers. i would really really appreciate it. thanks.



i know there is one stem cup and one dish bowl in tibet and one broken example in a musuem in china but do you know if it's classified as extrememly rare, rare or general. thanks. i would appreciate your help on this matter and hope that you are also excited to see something truly in it's original form. cheers.


Australia

p.s. i guess the copper or bronze box as shown for storing the bowl must be made later. i have just been interested in chinese antiques since 3 months. so sorry if i have misunderstood anythiing here.