Commenting is deactivated.

Please post all new topics and queries to the
Discussion Forum
Seeking information about small bowl?
by Chelsea
(NZ)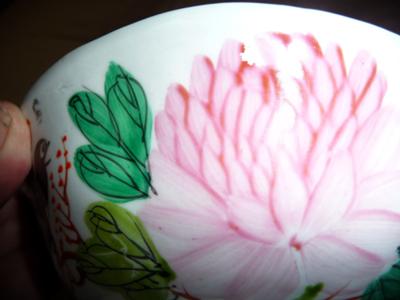 Hi Peter
Just another couple of photos of the bowl I have just posted.

Return to Ask a question or contribute - archived 2011.
Seeking information about small bowl?
by Chelsea
(NZ)
Hi again Peter
I have another little bowl that you may be able to shed some light on. There are no markings on this bowl to shed any light on its origin. It seems to have some age. The condition of the glaze is good - no crazing as such. The paint work on it appears to be overglaze decoration. It has some signs of age on the inside of the bowl where the foot would be and has a single bud in the centre of the bowl for decoration. When you look at one of the greens, my immediate thought was that it was in fact a decal that had been over fired, however, it is only on this particular green which makes me wonder if it was the colour they were having difficulty with. Under a magnifying glass, it definitely appears to be hand painted. The shape of the dish is irregular and of poor quality and some of the smudges of paint (see black near bird) also look a bit sloppy. The foot does appear to have some age to it and the general feel of the bowl is a rather old 'feel' I have no idea which is why I am seeking your expert opinion. There are another 19 of these bowls available (the bowls having come to light when going though a grandparent's estate. All the bowls have a similar design but are all different. Is it worth looking at getting the set if there is some age to them, or should I just settle for the one and say chalk it down to experience? It wasn't very expensive for just the one bowl.
Click here to read or post comments