Commenting is deactivated.

Please post all new topics and queries to the
Discussion Forum
HELP NEEDED TO DETERMINE AGE OF CHINESE MALLET VASE
by Stewart
(Australia)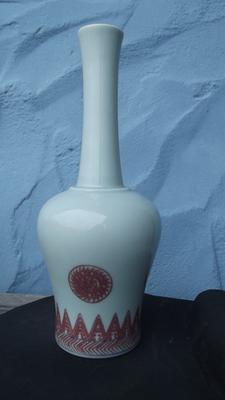 Hello Peter,
could you tell from the images whether this vase is modern?
It does seem to have the characteristics of the genuine known Kangxi mallet vases that I see on the internet, however this one has a pale blue celadon overglaze, so is not white.
The glaze bubbles are mostly small but are also interspersed with different larger sized bubbles.
There is a genuine, thin line of oxidation evident around the base of the foot, where the transition from glaze ends & to where the unglazed porcelain begins...I have read that this feature is characteristic of genuine Kangxi porcelain.
The foot has been rounded carefully by hand & is smooth to the touch.
The inside of the vase has a raised nipple in the centre of the base, however, inside it looks very clean & new, so I am unsure when this vase could have been made.
Looks qiute simple with elegant crisp lines,well made.
Any suggestions from you would be helpful.

PS: cleaned the base with oxalic acid then acetone scrub....no change to any colourations or deposits.

thanking you kindly,
Stewart.
Click here to read or post comments
Return to Ask a Question or Contribute - archived.
REPLY TO FURTHER QUERY REGARDING COPPER RED MALLET VASE
by Stewart
(Australia)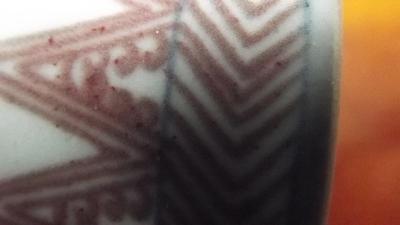 MACRO OF RED, MY VASE
Hello Peter,
Thankyou for replying,

Firstly, my vase is 23.9 cm.s tall & the neck is about half of the overall height,being approx: 4 mm.s shorter than actual half.

With regard to the red glaze, I have taken another image...see first one,in natural indoor daylight...I hope this image shows much clearer, the evident fading to brown of the copper, as it was fired a touch too long.

With regard to the red 'grains' that appear on my glaze, I read this from the internet from an expert, quote.."large GRANULAR particles & flaws can often be found in antique red glazes...", he did not mention the colour changes to green here, however did go on, to further mention, that copper red simulated glazes are usually based on iron & manganese, giving them a pinky hue, quite different & readily apparent, when compared to a copper red underglaze.

Peter a question for you -
could the redder looking grains, be caused by larger or coarser particles of copper, that had enough time in the kiln, to become a purer red color, without fading to brown unlike the thinner red glazed areas ??

With regard to the colour & correctness of the Kangxi mark..please refer to the last 2 images,where I have circled in red, where the characters on my vase look most similar to the genuine ones,

also you can see a large variety in the cobalt blue hues, including DARK BLUE.

Lastly, I cannot see it, but could you tell me which character you are referring to, that does not seem correct, to be from a genuine Kangxi mark ??
interested in learning more & more,
sincerely, Stewart.


Click here to read or post comments