Commenting is deactivated.

Please post all new topics and queries to the
Discussion Forum
RE CHINESE BOWL, CLEARER PICTURES
by Andrew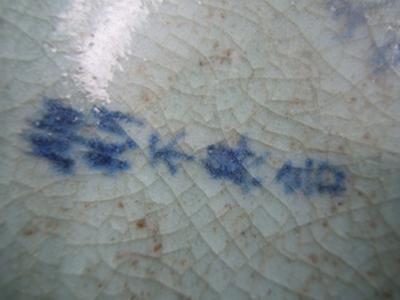 Hi Pete,
Hope these help, the cobalt on the characters painted up the sides, has run more, than the ones on the flatter area of the bowl.
Still blurry because of the thick bubbled glaze.

Have also included 2 pics of the black 'stuff' on the toad, first around edge & over base.
Second one of same stuff found in various places on body.

Out of interest, have found similar toad for sale at the Christofer Collection website,in their ceramics category, described as MING, but base looks like red paint or dark unglazed terracotta, weird!
Sent him a question to clarify base but have had no reply, as far as I can tell item still for sale as someone else emailed them to get the asking price & they got a reply to that particular question.
anyway if you still have time to reply, let me know what you think about these pictures & the one at the Christofer site.

cheers, Andrew.