Commenting is deactivated.

Please post all new topics and queries to the
Discussion Forum
Pink Coloured Chinese Porcelain - What is it ?
by Jon Sherwood
(Chatham, Kent U.K.)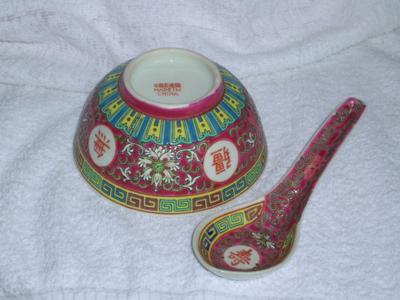 Bowl & Spoon
I have 5 pieces from my mother's estate and have no idea what it is or if it has any value. I intend listing it on Ebay but what do I call it and what do I ask?
All pieces have clear markings on bottom, mostly Chinese characters with 'Made in China'
The Handled Jar has a circle with Chinese characters and the number 5 in it.
The Jar with latticed lid has similar with the number 8 in it.
There is also a very small ginger jar with lid, although there is a small chip on the inside of the lid.

Any guidance would be appreciated.