Peranakan Porcelain
(Nyonya Porcelain)
Peranakan porcelain was made in China as a result of a specialized market in South East Asia, mainly in Malaysia and Singapore.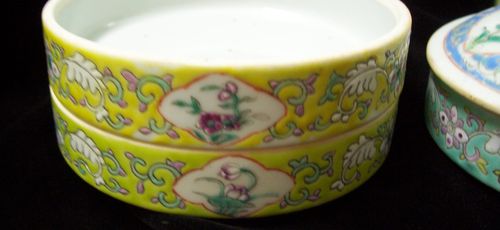 Peranakan or Baba Nyonya are terms for a subgroup of the Straits Chinese and their unique culture. They are descendants of early Chinese emigrants who settled on both sides of the Malacca Straits as early as the 15th and 16th centuries. That is, mainly in the areas of present-day Singapore, Malacca and Penang.
These early settlers often took Malay or Indonesian brides and as a result their culture and objects were influenced by the local Malay culture, creating a very distinct local Chinese flavor.



Straits Chinese porcelain is generally brighter colored than any other export porcelain made in China. The base color is often a bright yellow, green, pink, etc.

Due to their symbolic meaning in Peranakan culture, the phoenix and peony have a more prominent position than in other Chinese porcelain wares made for use in China itself.

Note:
Some of the items offered today as Straits Chinese porcelain on the web was not specifically made for the Straits Chinese.
Some are just regular porcelain, with the same designs as that made for domestic use in China. They were just shipped at the same time, but are now sometimes sold as "Straits" Chinese porcelain.


In the second half of the 19th century affluent straits Straits Chinese started ordering porcelain wares in China, having them custom made to their own taste. These Nyonya wares represent one of the most colorful porcelain wares made in China.