Commenting is deactivated.

Please post all new topics and queries to the
Discussion Forum
Looking for age autentication for "min yao" dish
by Carol
(Dayton NV )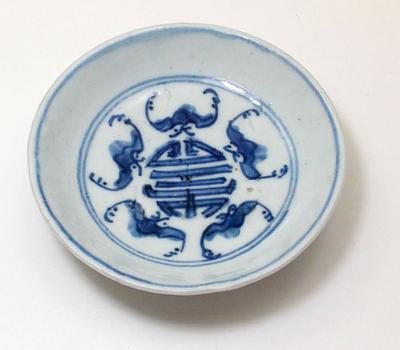 I posted a photo of this dish on the Asian Art board and got this reply It is about 4 1/2 inches by 1 1/4 inch in size.

"I think this is genuinely an antique porcelain. It is a "minyao" piece of a shape often seen in export to Japan from the Transitional Period (1600s). The footmark is a shop mark.

However, does anyone think this might be a 19th century piece? The design of five bats surrounding the word "shou" (ie the Five Joys surrounding Longevity) looks sort of 19th century to me. So does the smooth rim and the lack of chatter-marks on the base.

On the other hand, there is something about the footrim, the flaws in the glaze and the colour of the blue that makes me think Transitional. Anyone want to chip in?"

There have been no further comments on it and I am very curious about it. Would like further opinions.