Lion shape waterdropper
by Louws
(Middelburg,Zeeland,Netherlands)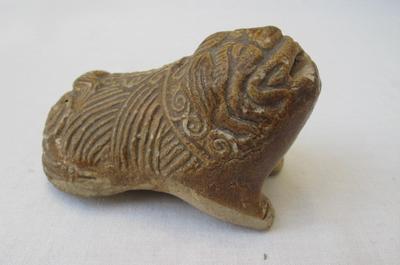 Dear, I bought this waterdropper because I liked it. Now it turns out to be difficult to determine exactly what it is. The waterdropper measures 9 cm. and is made from a light brown clay. The glaze is brown, and shows signs of wear, and has little chips. It could be a shipwreck Yue piece, because it looks quite a bit like the glaze on my Yue ewer. I found two possible leads on the origin, both of them lead to excavations in Indonesia possibly Java. I found one example on a commercial site who claims it to be Yue ware from the Jin dynasty, and that there is an example in the Shanghai museum. The other lead is that it is an Annamese piece.
I hope someone can give me some pointers.

Join in and write your own page! It's easy to do. How? Simply click here to return to Ask a Question or Contribute - archived 2013.