Commenting is deactivated.

Please post all new topics and queries to the
Discussion Forum
LANGYAO VASE & PETER'S REQUEST FOR A PICTURE OF THE BOTTOM.
by Andrew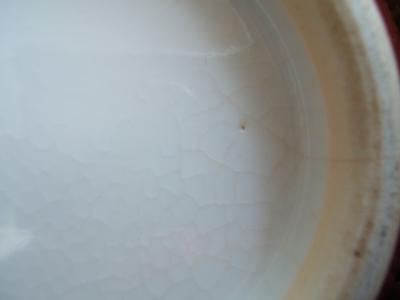 Hi Peter,
have taken 4 pictures from indoors, near natural light coming in from the window.
Have to say that the base is not snow or milky , bright white.
the colour changes ever so slightly when the base is rotated, however, it always appear to be more a mellow, pale bluish grey tone or off white tone, with a satin type sheen, not full & glassy.
Has the cracks & crazing giving it a yellowish aspect when viewed at a certain angle...dont know if this helps, but some of the republican wares have a newer cleanere looking glassy snow white base with a few black glaze contractions, otherwise I have not seen much hands on.
also the unglazed foot has been carefully trimmed to the inside edge & overall has a pronounced yellowish hue to the paste...does NOT look faked with permanganate or other type stain!
regards, Andrew.