Commenting is deactivated.

Please post all new topics and queries to the
Discussion Forum
Kangxi reign mark but late 19th century ?
by Jo
(Dorset, England )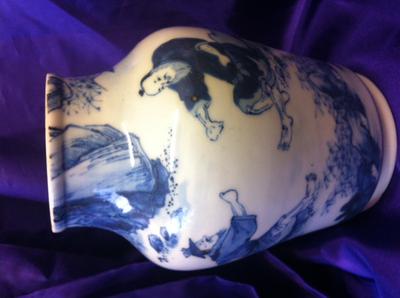 Hi
I have a ginger jar that has been identified online as having Kangxi reign mark but produced in the late 19th century for the export market. The online appraiser said if it were the real thing of course then it would be a very fine piece. What I'd like to know is, how can one tell if its Kangxi or an homage to Kangxi? What are the tell tale sings? It's been valued at 50 - 70 GBP .
It is A Chinese porcelain jar painted in underglaze blue with figures, four character reign mark.Height: 13 cm, Width: 9 cm

I'd appreciate the wisdom of the forum. Many thanks :)



Further pics for my Kangxi reign mark pot but late 19thC made
by Jo
(Dorset, Bournemouth)
Hi Peter
Not sure how to add additional pics to original post so have posted here.

As you can now see the lid would have been a continuation of the pattern.

Regards

Jo
Return to Ask a Question or Contribute - archived.
Further pics and the broken lid
by Jo
(Dorset, England)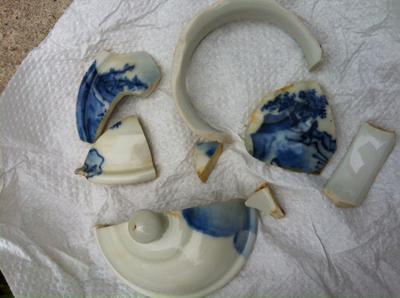 As you can see the lid is broken but I have several if not all the bits.

I hope the pics are clear enough for you