Commenting is deactivated.

Please post all new topics and queries to the
Discussion Forum
IDENTIFICATION OF THIS CUP NEEDED
by Andrew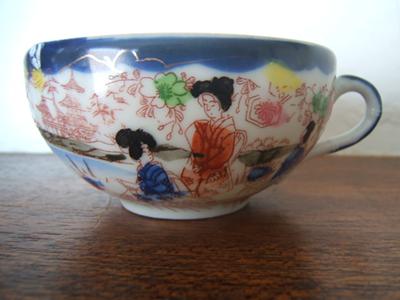 Hello Peter,
Firstly Easter greetings to you & yours,and also to all the other members.

I have 2 cups that are similar but not identical.
Both seem to have an unusual crimp mark on the rim.
Material looks like hard paste, semi transparent porcelain, but dirtier & without any ring tone.
Also the paste has a very slight off greyish hue.
The paste surface is quite irregular to the touch & not as what one would find when handling finer quality porcelain.
The cups appear to be handmade with appealing wide shallow bowls with attached bamboo shape styled handles.
Cups are 50 mm.s high & about 100 mm.s in bowl diameter.

Underglaze blue decoration around the rim with the rest of the enamel colours being overpainted.
The red pencilling appears to be transfer print, but when I compared the 2 cups, although the theme is meant to be the same, there are subtle irregularities in the style, shape & size of the red lines, including total omission of some figures which should be in that position, but have been replaced with something else completely.They look like they could have been actually hand painted with an overglaze red enamel & not been printed.

I have no idea as to whether they are Chinese, Japanese or even continental English.
No identifying marks on the cups.

Would love some help on this one.

PS: humble collector seeking knowledge & enlightenment.

sincerely, Andrew.