Help with identifying vase(s)
by Rick Dolson
(Connecticut)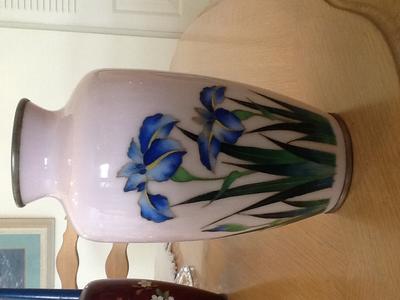 My step grandfather was a civil engineer. At the end of WWII, he helped build a number of airfields for the Chinese Gov. When he was done, the Chinese Gov. Presented him with a gift of two vases as a token of their appreciation.

I would like help in identifying what they are. Antique? Modern? Are they valuable?

Both stand about 9 inches tall. They are heavy for their size. Both have finished bases, with silver plated rings top and bottom. There are no identifying marks what so ever on them.

The pink one has lovely, very detailed lotus on it.

The maroon one not only has the flowers in color, but also has delightful three dimensional lotus flowers under the clear glazing throughout.

Can anyone help with identifying these, and should I find an appraiser?

Thanks in advance.

Rick.