HELP TO APPROXIMATE AGE OF CHINESE JAR
by Andrew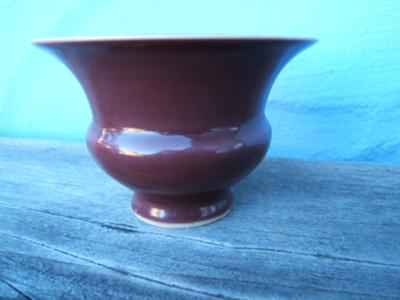 Hello again Peter,

I recently acquired this piece & wondered if you could possibly estimate a production date for this jar.

From what info I could glean from the internet,the shape is called a"Leys Jar" & the piece seems to exhibit those characteristics found in Xuande period copper red porcelain; however the fluently written base mark, seems to be similar in style on the script found on later Chengua period marked pieces...this is only my opinion, by comparison of later period marks found on the net.
A dark, thick, speckled, copper red glaze has been applied inside & out.
The porcelain is very fine & light in weight.
Surface has a semi gloss lustre with tiny pinpricks all over the glaze surface.
Size is 70 mm.s high, perfect shape.
Passes an acetone scrub.

Would love to have your thoughts about this little piece.
regards again,
Andrew.