Commenting is deactivated.

Please post all new topics and queries to the
Discussion Forum
Help identifying mark & era
by Sage
(California)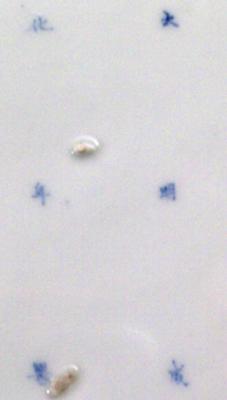 Need help, please! I am in the early stages of learning about Chinese porcelain/pottery, and this one is out of my range.

This mark is from a plate. I think I have identified the mark as being Chenghua (1465-1487). The plate is certainly an antique, but I seriously doubt it is as antique as it's mark seems to claim it is. (But I'm fairly new to this & could be misreading the mark completely).

Any help confirming what the mark says would be so *much* appreciated; as would any help in what to look for to verify or identify when the plate was really made.

peace & thanks!!
Click here to read or post comments
Return to Ask a question or contribute - archived 2011.
Follow Up to Mark & Era Help - Daming Chenghua NianZhi
by Sage
front of plate
My apologies. This is a follow up to a previous blog, 'Help Identifying Marks & Era'. Leaving additional images - but couldn't figure out how to do it in the same blog. My apologies; but here's the images...


Click here to read or post comments