Join in and write your own page! It's easy to do. How? Simply click here to return to Ask a Question or Contribute - archived 2013.
Help Identifying Fish Bowl
by Jo
(Meridian, ID)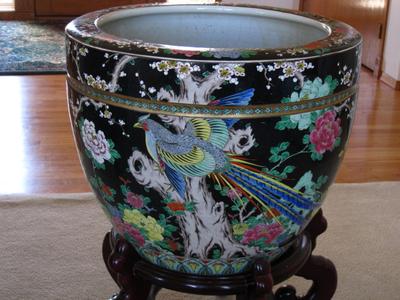 I posted a question earlier, but didn't have photos at the time. Couldn't figure out how to edit my original post to include the photos, so starting a new thread.

Per my original post, my aunt gave me this fish bowl which came from the attic of a hospital, as they were going to throw it away. I believe this was in the late 30's or early 40's.

Height ~17 1/4", Outside diameter at top ~21 3/4", Inside diameter at top ~!16 5/8", Circumferance at widest part of bowl ~68 3/4".

There are two peacocks, one on each side, and hopefully you can see the background is black.

Can you help me with an estimate of the age, and is it porcelain or pottery?

Thanks!
Help Identifying Fish Bowl--More Research
by Jo
(ID)
Since posting about my fish bowl, I've continued additional research with some interesting findings.

First, I remembered my aunt (who gave me the fish bowl) told me that some time ago, she had written to someone and sent a photo to get an appraisal. I thought she had given me the response, but had no idea where it was. After digging through some old correspondence today, I finally found the letter she had sent and the response she received.

Turns out, she had written to Elinor Gordon, a Chinese Export Porcelain specialist she had found through an ad in 'Art & Antiques' magazine. A Google search reported that Ms. Gordon was considered quite an expert at one time: www.themagazineantiques.com/news-opinion/current-and-coming/0000-00-00/elinor-gordon-1918-2009/

Here is the handwritten reply my aunt received from Ms. Gordon in 1995:

"The picture which you sent to me can be properly identified. It is hard paste porcelain made in China and decorated in the background known as famille noire. I believe the piece to be used as a fish bowl and dates to the mid 19th century. The appearance of thickly applied paint makes me feel it is not an earlier version of the design. The replacement evaluation is about $3-4000. I am writing this from my summer home."
(Signed Elinor Gordon and mailed from Cape Cod.)

Now, I am certainly hesitant to feel an appraisal based just on one photo is conclusive; however, it really is exciting to know I have this handwritten letter from Elinor Gordon.

During my web search, I also found a video from an old 'Antiques Roadshow' which appraised an object with a somewhat similar appearance (although obviously much older than what I have). I'll post this just in case anyone is interested: www.bing.com/videos/search?q=famille+noir&view=detail&mid=48552D57EB8E3AE6309448552D57EB8E3AE63094&first=0&FORM=NVPFVR&qpvt=famille+noir