Commenting is deactivated.

Please post all new topics and queries to the
Discussion Forum
Chinese ginger jar of Guangxu period
by Bill Black
(Maidens, Va. 23102)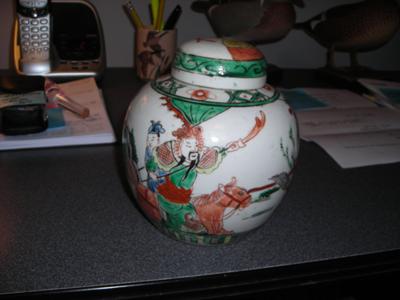 I have a Chinese ginger jar of the Guangxu period (1871-1908) which shows two men on horseback. I cannot find anything like this scene anywhere. All I can find are blue and white porcelin designs. If you have any idea how valuable this piece might be, I would deeply appreciate your help. Thanks.
Click here to read or post comments
Return to Ask a question or contribute - archived 2011.
Antique oriental jar marked with two blue circles on bottom
by Bill Black
(Maidens, Va. 23102)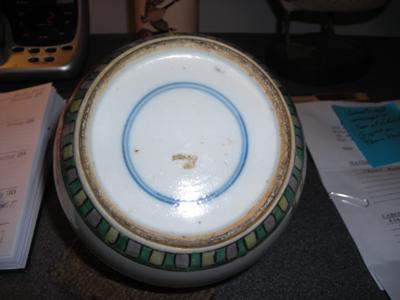 I believe this ginger or maybe tea jar was, I believe, from around 1900. It may be a ginger or tea jar. I had an intricate woven basket around it that has since fallen off. It has a wooden stopper in the top. The only i.d.marks are two blue circles on the bottom. I am pretty sure this is old and may have some value. Please help me to somehow identify this item and its possible value. Thanks so much for your efforts on my behalf.