Commenting is deactivated.

Please post all new topics and queries to the
Discussion Forum
family rose porcelain cookie jar
by mona
(beirut lebanon)
Hi Peter, enclosed are pix of this beautiful painted with flowers and birds cookie jar on one side.a chinese writing on this other side. I wonder whether this is a poem or dedication. it is marked underneath.it measures 12" diameter.Would you be kind enough to put an age on it.Thank you Peter for your time.
Click here to read or post comments
Return to Ask a question or contribute - archived 2011.
family rose cookie jar addendum
by mona
(beirut lebanon)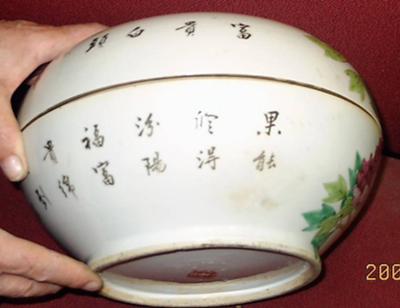 Hi Peter,
-I got more pix I hope the text is clear enough for you to see, there is some glare to the text.I downloaded the pix 1-2-3. for the entire text from right 1- to left 3. there is a red mark at the end of the text.
-the size is 10 3/4" diameter wide. 6 3/4" high.
-also a better close up on the mark.
Please let me whether this is good enough or I should take more professional pix as this is the capacity of my camera.
Thank you again for being a great teacher.
Best
Mona