Commenting is deactivated.

Please post all new topics and queries to the
Discussion Forum
COULD THIS BE A MING TOAD IN TRANSMUTATION GLAZES?
by Andrew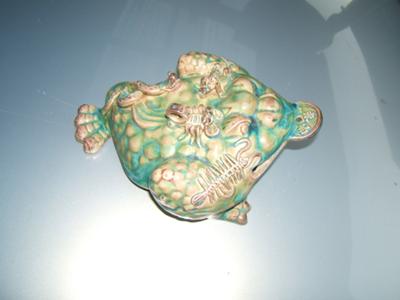 Hi again to you all,
The pictures could help more than my input, the last image is of the base.
However, out of interest, I was able to identify the two characters that are visible on the coin in the toad's mouth.
An antique Chinese coin trading site has genuine Ming coins for sale & character comparisons with these on the toad identify two possible markings:

Yong Li Tong Bao
Yong Chang Tong Bao

both these identify late Ming period coinage.

any comments most welcome,
Andrew.