Commenting is deactivated.

Please post all new topics and queries to the
Discussion Forum
Cobalt Blue Floral HP signed Ashtray
by vjcostello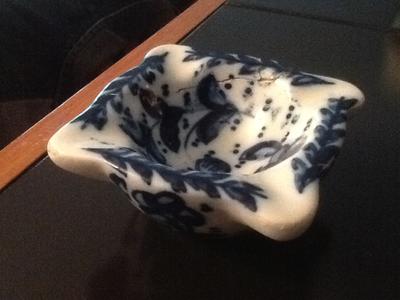 I have had this for some time and purchased it from a second hand store in SoCal that sells pieces from estates that have been donated to them. It looks to be an ashtray. It is hand painted. It is a very deep cobalt blue and not a chemical blue as you have mentioned before and in your Ebook, which by the way is a wonderful help to me and I just purchased it yesterday. I wish I had purchased it sooner.
Back to the item. You can feel the raised paint under the glaze. It has been broken and someone tried to make a repair, not a very good one.
I just would like to know if it is old and of course if you recognize the mark on bottom.