chinese porcelain vase?
by stephen
(Cape Town South Africa)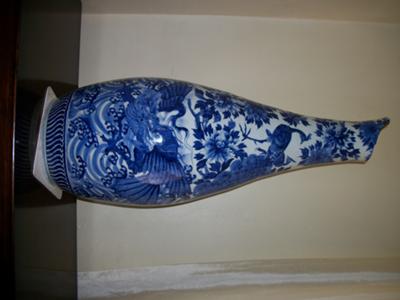 My wife inherited a blue and white porcelain vase, she is the 4th generation to own this vase, unfortunately the top of the neck is broken because it rinsed out of the ocean +- 180 years ago. The vase is decorated with a Dragon, Peacocks and Flowers duplicated @180degrees round the vase.
The porcelain is +-12mm thick and it has Blue Chinese Markings at the bottom. We would like to know if it is Chinese Porcelain? and from what era? and of what value it is? The vase stands at more than one metre high(1m)and has a circumference of more than 1m.