Part 2: Chinese Porcelain "Good Luck" vase
by Sharon K
(Massachusetts)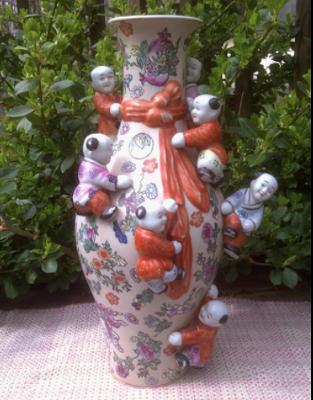 Just wanted to add a larger picture of the "Good Luck" vase
Chinese Porcelain "Good Luck" vase
by Sharon
(Massachusetts)
Mark on bottom
Large vintage Chinese decorative vase. Seven well articulated, three-dimensional child figures climbing a vase detailed with floral and butterfly motif overall, pomagranite at top.

17.5" tall, 4.25' diameter at tapered top, Vase bows out about 1/2 way up the "column", then tapers at top & bottom. Scuff marks on some high painted surfaces,and dulling of the glaze overall, but in good condition, with no chips or cracks.

Mark on bottom: "Da Qing Qianlong Nian Zhi - "Great Qing Dynasty, Qianlong Period, Made".

Any ideas of age, authenticity and value??