Chinese monochrome blue vase
by stan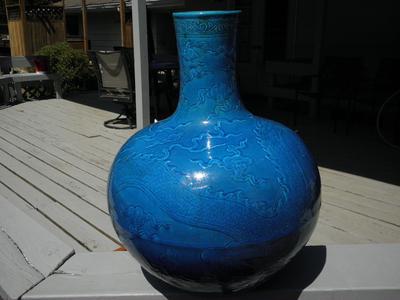 Hi Peter, another addition to my collection, this is a large 17" high monochrome blue vase and it is 12-1/2" wide, I bought several pieces from an antique dealer, again I was told that he thought this to be 19th century, I do not know much about Monochrome Chinese antiques, although it is made of porcelain and there is a lot of age signs and I noticed that there is a bulge in the middle where it looks like it was made in two pieces and put together, it has a dragon and clouds, I would like to know the age and what you think, thanks again from Stan.
Chinese monochrome blue vase
by stan
(sday777@q.com)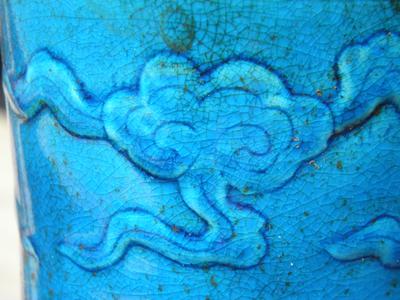 Hi Peter, here are the last set of photo's, if you need more let me know, talk you later, Stan.
Chinese monochrome blue vase
by stan
(milwaukie Oregon)
Hi Peter, here is another set of pictures of the vase, I will send you one more set, thanks, stan.
Return to Ask a Question or Contribute - current.