Chinese Marks on Brass Trinket box?
by Marty Hinson
(Sullivan, MO USA)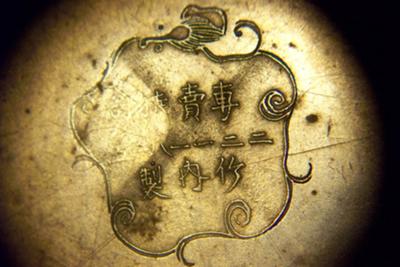 Mark without manipulation
Hello I was Wondering if anybody can interpret the marks on this Brass trinket box. It has a Black enamel like surface with 3 balls (circles) which are balled up brown(copper) and gold Dragons in a cloisonne style. Part of the stamp is very weak so I manipulated the pic by magnifing and having the light hit it at the right angle to get a little more clarity. Any Help would be greatly appreciated.