Commenting is deactivated.

Please post all new topics and queries to the
Discussion Forum
Chinese Brass Plate, Export or Genuine Period?
by George
(Swanton, Vermont USA)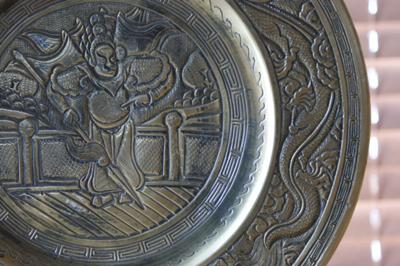 We acquired this brass plate from my grandmother's estate in 1979. We think my great-grandfather, a ship's captain sailing from New York, NY, may have acquired it in the late 1800's or early 1900's. It looks as though someone, at some time, cleaned it with something to remove the patina. Was it a practice in the Chinese export market to "age" plates? It bears the" Da Ming Xuande Nian Zhi" mark but we have never seen a genuine mark. Does anyone know where we might lookup examples of genuine marks from the period in brass? Any information anyone could provide would be greatly appreciated.