Commenting is deactivated.

Please post all new topics and queries to the
Discussion Forum
Chinese blue and white plate, unglazed base, how old?!
by Maxwell Levy
(Essex, UK)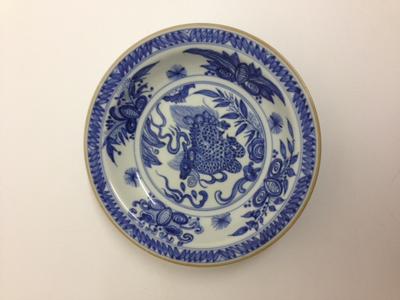 top of plate
Hi there,
I have a Chinese plate, decorated in underglaze blue with a central mythical beast, possibly a Qilin, surrounded by traditional flowers and foliage, with geometric border and a brown rim. To the underside is further foliate decoration and the base itself is unglazed.

The style looks early to me, but the porcelain is very even. I have no idea how old this is, it came from a person who had a collection of various Chinese porcelain and pottery from 1920s export to 17th century South China Seas shipwreck! any help would be greatly appreciated! I think it measures approximately 16cm across.