Commenting is deactivated.

Please post all new topics and queries to the
Discussion Forum
Celadon Vase
by Ruud
(the Netherlands)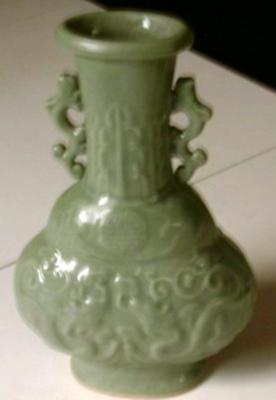 Hi Peter,

I presented this vase before, but now I have been able to identify the imprinted reign mark as being qianlong.This thanks to the fact that I could compare this mark in red from another item on your site with the imprinted mark on this vase: they are identical.
You commented earlier that this vase appears to be moulded earthenware and not porcelain.
I wonder whether you can provide further comments on this vase now that the imprinted mark is known.Could it be old after all?