Commenting is deactivated.

Please post all new topics and queries to the
Discussion Forum
Can anyone read the Chinese Script on this Balluster jar ??
by Joel C.
(Philadelphia, PA, USA)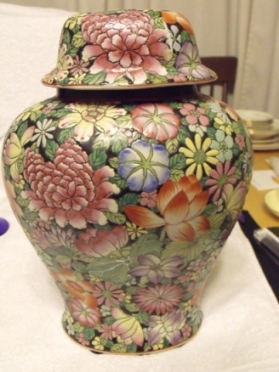 We have a small balluster-type Chinese vase with a floral pattern. The vase also has a lid as well. (see pictures for details). Unlike typical balluster jars which are symetrical, this one is like an ellipse. Another words, looking at the opening of the top of the vase, it looks like an ellipse rather than a circle, so the vase is wide in one direction and skinny in the other. On the bottom there is a stamp with Chinese characters (pic #2). I sent a picture of the stamp to a Chinese friend of mine. She could not read the characters, but said they were 'old' Chinese writing. Can anyone on this site read these characters and tell us what they mean? Thank you all for your help.