Commenting is deactivated.

Please post all new topics and queries to the
Discussion Forum
CA porcelain artifact
by Heath McWade
(Sac,CA U.S.A.)
artifact1
I think it's origin is from the chinese immigrants that came to California during the gold rush. I also found some Native American
indian pottery. The piece is hand made and the porcelain is made
from crushed crystal mineral like feldspar, quartz, granite stone and fine light color clay. It looks like it was made out of the surrounding minerals and stone from the locale of the find. Its pretty interesting to think maybe the chinese immigrants were working with the native indians of the locale and were teaching each other techniques of their cultures trade.
Click here to read or post comments
Return to Ask a question or contribute - archived 2011.
CA porcelain artifact
by Heath McWade
(Sac,CA U.S.A.)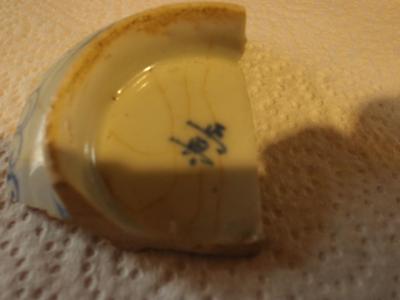 This is a piece I uncovered in Cali
I need to get the marks translated
thanks
Click here to read or post comments