Commenting is deactivated.

Please post all new topics and queries to the
Discussion Forum
Brass censer enquiry
by Alan
(Anglesey UK)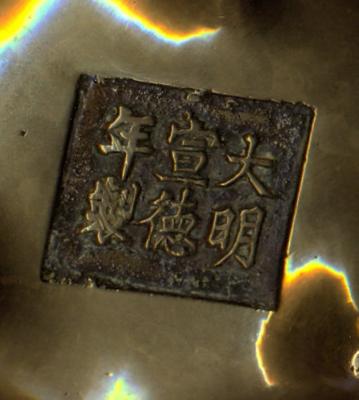 Brass Bowl
I would be grateful for an understanding of the marks in this picture. They are on the bottom of a brass bowl.
Click here to read or post comments
Return to Ask a question or contribute - archived 2011.
Chinese Brass Bowls
by Alan
(Anglesey UK)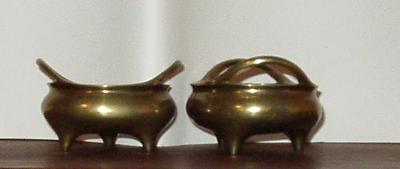 Chinese Brass Bowls (pair)
Having published the mark beneath these bowls and having gained a response from Peter to the interpretation of those marks, I now publish a picture of this pair of brass bowls. They are 11.5 cms wide across the handles and stand 5.5 cms high.

One of then has another set of marks inside the bowl and I have only just noticed that. The other just has a blank impression in the same place. I will try and clean up the mark and take a picture of it which, if it is a decent image, I will post here.

They were for many years used by my father-in-law as ash trays. The insides are therefore blackened. The outsides show no signs of wear and therefore seem to be probably 20thC. If this is a wrong assumption, I will be pleased to have other opinions.
Click here to read or post comments