Commenting is deactivated.

Please post all new topics and queries to the
Discussion Forum
Small Blue and White Porcelain Pitcher with gold
by Laveda Files
(Ellston, IA USA)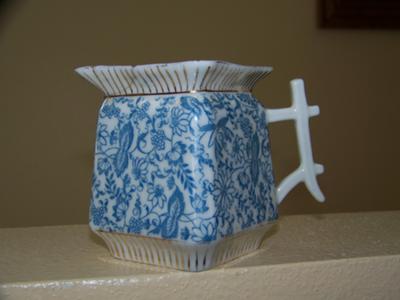 Small B&W Porcelain Pitcher w/gold
This is the pitcher--it does have a couple of small chips and spout has been broken and glued. Does this affect the value? Does this piece have any value at all? Thank you.
Click here to read or post comments
Return to Ask a question or contribute - archived 2011.
Small Blue and White Porcelain Pitcher with gold
by Laveda Files
(Ellston, IA USA)
Bottom of pitcher
The marking on the bottom of the small pitcher is raised--PFVA, also has a written 116 on it also. See picture. The pitcher was a wedding gift to my parents on June 16, 1937. My mother left a note with it to indicate it was 101 years old then, which would have made it be from 1836. Could this be true. I will upload another picture with the vase in the color. This one is of the bottom. Thank you.