Blue and White Baluster Vase with Enamel Florals
by Lisa
(Portland)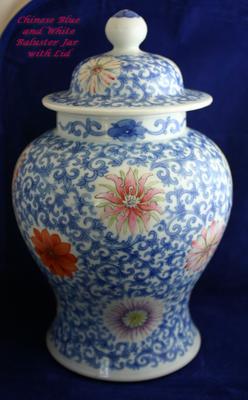 I have a lidded baluster vase with enamel florals done in a Kangxi style but am curious what the overall treatment with the enamel is referred to? The florals are particularly well done and it does show some age. This vase is marked with a double blue circle and I am guessing that it is a later piece, late 19th century, early 20th century. Any assistance in identifying it would be greatly appreciated.
Blue and White Baluster Vase with Enamel Florals
by LIsa
(Portland)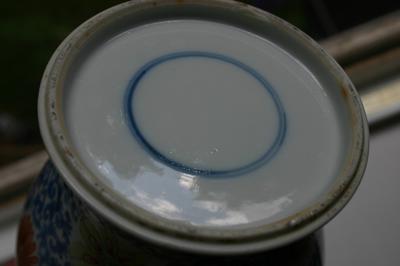 bottom at angle
Hello Peter.. I finally figured out out to add some photos. Hope this works.

The vase does not have an interior unglazed area.. it is all glazed, but the lid does have an area that is unglazed.. I've taken many more photos. Hopefully enough to discern.

Thank you for accepting my submission and I hope to learn more about this piece.. I have several pieces of unmarked Chinese porcelain and pottery so I am trying to learn as I come across the boxes that I've had stored.

Lisa
Return to Ask a Question or Contribute - current.