Commenting is deactivated.

Please post all new topics and queries to the
Discussion Forum
Black Tea Pot - Never seen anything else like it!
by Elizabeth Blaze
(Barrie, ON)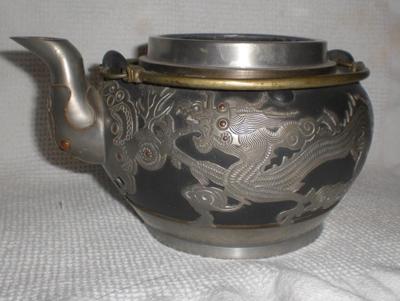 One of a kind chinese tea pot
Believe it or not, I found this tea pot while dumpster diving the remains of an old guys estate. It was in a bag with other items that I was able to date to the early 1900's. I've never been able to properly identify the marks on the bottom and I'm not even sure what materials it's made of because I have not been able to find another one that is even vaguely similar. It sits in my China cabinet and taunts me. I had someone familiar with Chinese tell me that one mark said it was from Weihai, Shangdong Province. Another mark was a name and the other two she could not make out.