Commenting is deactivated.

Please post all new topics and queries to the
Discussion Forum
BAMBOO BRUSH POT, HOW ON EARTH DO THEY DATE THESE THINGS?
by Andrew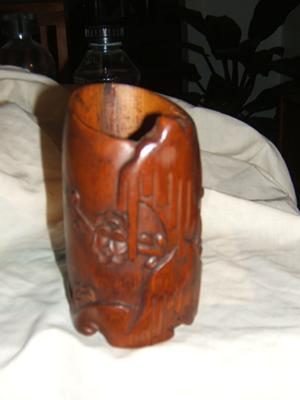 Hi Pete,
have a carved bamboo brush pot with a reticulated base.
is 135 mm.s high; has an old, infilled repair of a full length vertical split on the back, where there is no carving.
Has old age patina & crazing to what appears to be the original varnish.
No other distinguishing features, seen these things at Christies sold for ridiculously high prices, but why?
No maker's or reign marks on these, how can you tell 50 year old from 400 year old?
Have no idea where or when, mine was made.

Really interested to hear any comments about mine or anything else at all, related to these mysterious
complexities.

your dedicated follower, Andrew.