Commenting is deactivated.

Please post all new topics and queries to the
Discussion Forum
RE: close up of foot and characters on unmarked deep dish
by Jon Platten
(Layton UT USA)
foot close up
Peter,
Here are the close ups that you requested from my previous post. This is the foot and rim close ups and front close up of my blue and white Chinese deep dish. The white on the porcelain is a light shade of blue now all over the piece.
Click here to read or post comments
Return to Ask a Question or Contribute - archived 2013.
Antique white and blue deep dish
by Jon Platten
(Layton UT USA)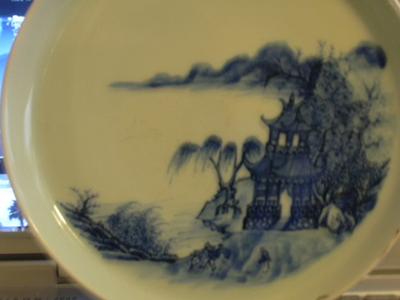 front of deep dish
I have a blue and white deep dish that does not have a mark. The white porcelain appears to be taking on a light blue color from the blue color sections. (The white is not a pure white but has a blue tint to it all over the dish) The foot shows some age as it is very dark all around the edges. Any information on this piece is greatly appreciated.
Click here to read or post comments