Commenting is deactivated.

Please post all new topics and queries to the
Discussion Forum
antique ginger jar
by Alison
(Glasgow, Scotland, UK)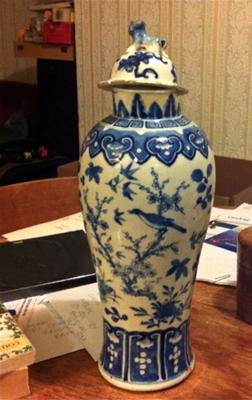 This was passed onto me via my mother and grandfather, my mother was born in 1920 and my grandfather in late 1880/90. I don't know where or when he got it, he swopped a lot of things working on farms in Cornwall.

Sadly the neck of vase is broken, but bits are inside, lid has dog or lion on top and there's nibbling on edge.
Any help as to date or value would be appreciated.