Commenting is deactivated.

Please post all new topics and queries to the
Discussion Forum
ANOTHER GE -TYPE VASE ???
by Stewart
(Tasmania)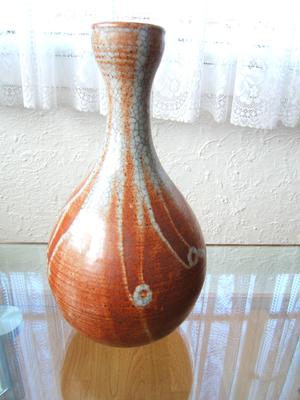 Hello again Peter,
I always seem to be drawn to the unusual kinds of porcelain & nearly always prove difficult to identify.

Could you possibly tell me if you feel that this vase is a modern innovative design...or perhaps something older.
The vase has even concentric hand made rings, a crackled pale grey glaze over which a brownish oxide glaze is evident all over,both inside & outside the vase.
the base is slightly concave with no cut or stepped foot as such.
also the unglazed porcelain base appears to be the natural colour as shown.
Vase also exhibits a lot of independant random iron spots..some quite large, coming through to the surface.

The grey crackled porcelain glaze reveals bubbles evident with a 10 x loupe, they are very small bubbles with random solitary larger bubbles present in the mix.
your thoughts on this one would be most appreciated.
regards,Stewart.