Commenting is deactivated.

Please post all new topics and queries to the
Discussion Forum
2 Porcelian Lided Blue & White Pots
by Georgi
(VA)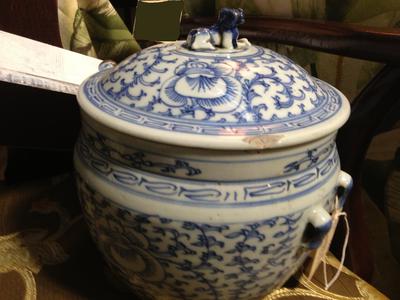 Got few questions. The pieces show quite of a wear but wonder about the brown on the bottom, the lips at the opening and the underside of the lids. You can see from the cracks on the bottom that the brown goes deep. So it is not painted to simulate age.Any explanation for that?


I cannot show the second pot in the allowed 4 pictures but you can see more here: s1287.photobucket.com/user/jmuj/library/pot?sort=3&page=1

Not sure if the first pot is marked but on the second one the bottom has something like inscribed two characters.Any idea what do they read?
Finally, what is your opinion on the age of the pieces?
Thanks a lot!