# 3 Pear shaped vase.
by Andy
(LONDON)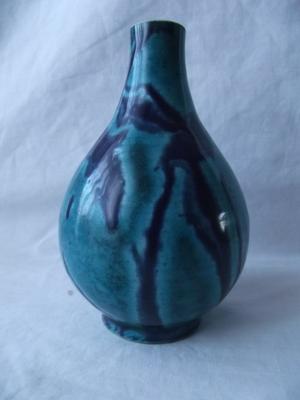 Finally the third item,
This one is the most puzzling ( to me at least!) It is a small Pear shaped vase that stands at only 5 1/4 inch tall. It has a glaze of Turquoise and Cobalt blue. It has a short neck ( dont think reduced) and a white glazed mouth. The glaze is very strange I can only describe as drip glazed, it has a small foot with an unmarked ( that would be too easy) and again unglazed base. The glaze up close is quite beautiful with what must be thousands of miniscule bubbles that gives the impression of shading. I have looked at hundreds of pictures of pear shaped and gallbladder Chinese vases but not seen this glaze or size. I am beginning to think is is not even Chinese to be honest! I am VERY confused by this one. I will send several pictures including close ups of the glaze and hopefully you may have some ideas on it.
Thank you Peter once again in advance,
Andy
Join in and write your own page! It's easy to do. How? Simply click here to return to Ask a Question or Contribute - archived 2013.